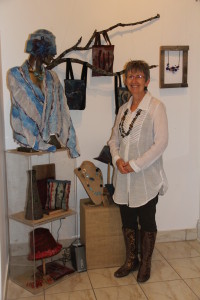 Embarking on this journey into fibre art began as a simple passion for sewing fabric but has become a fascinating adventure in colour, texture and manipulation of that fabric – to include painting, dyeing, distressing, stitching and beading.
A piece of fiber art might begin as an idea or a thought which takes hold and when I touch the fabrics and blend the colours together, that idea takes on many more dimensions.
My pieces are becoming multi-layered, using silks, sheers, beads, as well as fibers that are needle-punched on the surface. The 3-dimensional aspect intrigues me and I am exploring this more frequently when looking for an exciting addition to a piece. I would like the viewer to be intrigued by the unexpected they might find in the art I create.
Website: www.ooak.ca
---