*Art Threads 2020 has been cancelled.
---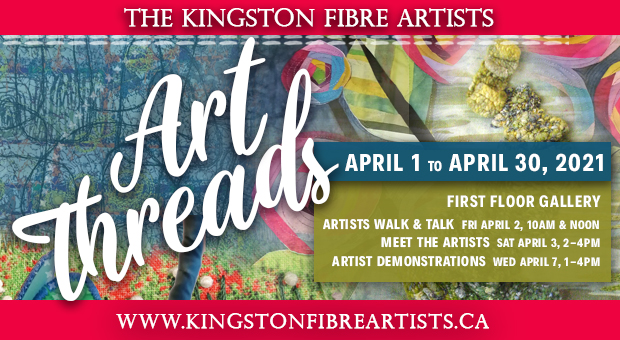 Art Threads 2021
Duration: April 1st through April 30th, 2021
Artist Walk & Talk: Friday April 2nd; 10am & noon
Artist Demonstrations: Wednesday, April 7th; 1:00 – 4:00pm
Meet the Artists: Saturday, April 3rd; 2:00 – 4:00pm
Venue: The Tett Centre for Creativity and Learning
Location: 370 King Street West, Kingston, ON, K7L 2X4
Phone: (343) 266-0009
Gallery Hours: Monday through Saturday: 10:00 am to 6:00 pm / Sunday: 10:00 am to 5:00 pm
Demo Day 2021: April 7th 1pm till 4 pm
Hand Embroidery: Sorbello Stitch with Phillida Hargreaves
Phillida will demonstrate her 'go to', the sorbello stitch, and talk about how she uses it. She will also have embroidery floss and fabric available for people to show their own favorite stitches and practice new ones.
The Knitting Machine with Carolyn Barnett
What's new in the world of knitting? Come see just how inventive an artist can get with a 'modern' knitting machine…actually invented in 1589. The beauty is in the details!
Printing on fabric with a Thermofax Screen with Linda Coulter
Linda will demonstrate the exciting results that can be achieved by using a thermafax screen and thickened dye to create interesting surface designs.
Free Piecing and Free Motion Stitching with Lori Everett
Lori will demonstrate techniques for building an art piece using improvised machine piecing and use of free motion stitching. Be inspired to trust your artistic instincts.