Mission Statement
Our aim is to increase understanding and appreciation of textiles in art and design though a yearly local exhibition. We also encourage members to submit works to other juried shows.
We network with other textile artists and groups for professional support, keeping in touch with broader trends in contemporary fibre arts.
We support and encourage creativity and innovation in exploring variety of media (such as dyeing, painting, printing, stitching, embellishing, quilting, felting and papermaking), and aiming at the highest standards of design and workmanship.
As a group, we support each other in co-operative and sharing manner, by meeting regularly, participating in and conducting workshops, and helping each other solve design problems.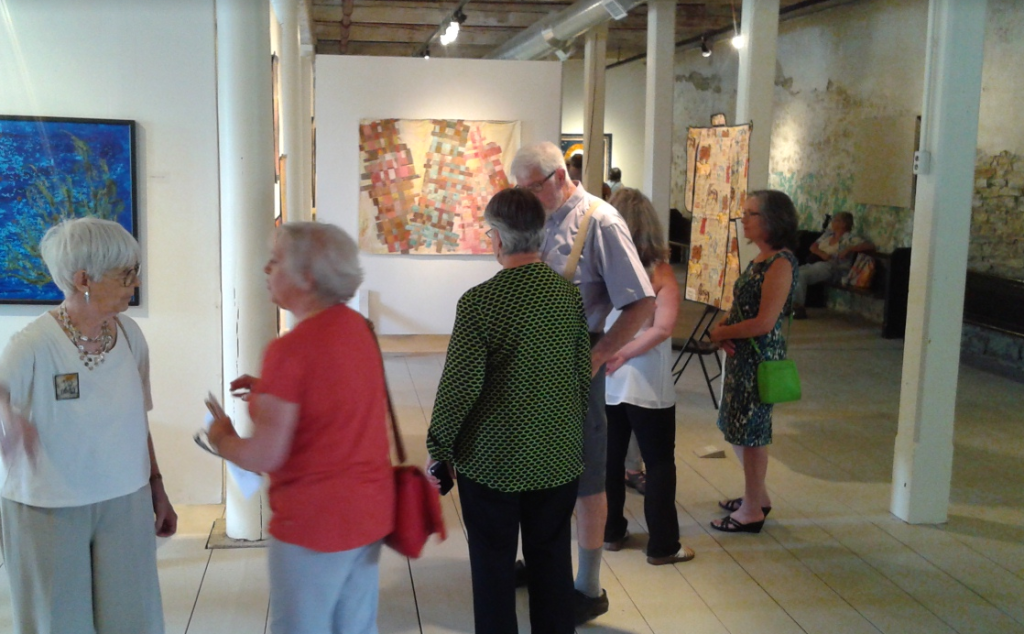 ---
The History of the KFA
In the spring of 1997, Hilary Scanlon invited eight women to join her in a group of stitch makers to be called the Kingston Fibre Artists. Lee Fisher-Goodchild, Joan Hooper, Beth Robinson, Margaret Stone, Hana Sramek, Christine Watters, Janice P. Van Dijk and Mary Ev Wyatt were all part of that original group. Then, the idea of showing our work in the Foyer of the Wilson Room, in the Kingston Frontenac Public Library was presented. It was a daunting thought for most of us, but Hilary suggested that this should be done in the spring of 1998 and call this show Navigations. The Ontario Network of Needleworkers (O.N.N.) organized a juried exhibition every three years in the Wellington County Museum. Navigations was the theme of this O.N.N. show. Hilary felt we were ready to challenge ourselves by entering this show but that hanging our own show first would be good practice for us. Many of us were terrified, but with Hilarys moral support, practical advice, and gentle prodding, we forged ahead. Not all who entered pieces for the O.N.N. show had them accepted, but nearly half the group was successful, and one piece became a prize winner.
After the 1998 show, Hilary gave each of us a potted crocus and a little package of jewel-like fabrics. Make a crocus she said, and we did. Those small pieces became a centerpiece for the show. That same year the International Plowing Match was held north of Kingston. Bethany Garner was the chief organizer for the large quilt show there. She encouraged us to enter. We composed a twelve block hanging titled Wild Gardens, hence the name of the next show.
By the 1999 group show, Wild Gardens, Linda Burke, Bethany Garner, Wilma Kenny, Tina Barnes and Anne Hill joined us. Beth Robinson and Christine Watters retired and Anne Hill moved to British Columbia.
2000: The spring group show was titled Strawberry Fair. This show theme was inspired by Joan Hoopers introduction of the group to the First Nations strawberry ceremony during the summer of 1999. Everyone brought a strawberry related fabric to share during this ceremony. Joan provided luscious strawberries for our thoughtful contemplation. That same year, Tina Barnes gave each of us a postage stamp and challenged us to make a small piece extrapolated from the stamp. Wonderful results arose from that challenge!
2001: Betty Gill and Linda Hetherington joined the group. That year the O.N.N.s juried exhibition theme The Elements became the theme of our February group show. The Kingston Whig Standard reviewer said of that show its exciting to see how dynamic, distinctive and expressive the (enduring craft of needlework) can be in skilled hands. Nearly everyone submitted one or two pieces to the O.N.N. show. Eight pieces were accepted and one piece became a prize winner.
2002: Fran McArthur joined the group. She and Hilary challenged us to familiarize ourselves with Gustav Klimt, the Viennese artist who helped usher in the Art Nouveau Movement. There was a big exhibition of his work at the National Museum in Ottawa that we were encouraged to visit. Our 2002 group show titled: Inspiration and Decoration was very successful.
2003: A bench-mark year. For the first time we challenged ourselves to fill a much larger space, the Wilson Room in the Kingston Frontenac Public library. It seemed daunting at first and there were concerns about having enough work to show, about making kimonos, about what we meant by the The Orient. In the end, the group show titled: Inspiration and Decoration: The Orient became our most successful event. Frankie Le Monde Meunier and Robin Field joined the group and Betty Gill and Margaret Stone retired. It was also the year that new officers were appointed, though Hilary remained our artistic director. From the beginning Hilary always encouraged us to challenge ourselves, to experiment, to take risks, and to be willing to share our knowledge and skills with the group.
2004: Andrea Graham, Elinor Rush and Phillida Hargreaves joined the group. We now had 15 members, a group size that enabled us to continue meeting  on rotation in private homes.  This was the year that Janice VanDijk, our computer genius, created our website.  Janice also designed posters and invitations for us until 2010, when her own professional demands forced her withdrawal from the group.  Our February show in the foyer of the Central Library had The Garden Party as its theme.  That summer, an American fibre artist, Jeanne Beck, was invited to give a workshop on Discharge and Shibori Dying at Hana Sramek's Camden East home.
2005:  The April show in the Wilson Room was "Inspiration and Decoration: Journeys."  The Challenge was to make small purses. In addition, Bethany Garner suggested we make small pieces, 8 1/2 by 11 inches, for a silent auction fundraiser.  This was very successful and earned the group $1000.00.  Pamela Allen was invited to open the show.  This was the year we visited Classic Custom Framing for an introduction to ways to frame fibre art.  We were also invited by the Cataraqui Guild of Needle Artists to show our work in a trunk show at Edith Rankin  Church.  Fran McArthur, secretary and inspirational quilter,  moved to B.C. and Linda Hetherington took over as secretary.  In September, an Australian felter, Fiona Wright, held a workshop for us in Odessa.  The year was highlighted by the invitation from Kelly Baatnes, Curator of the Mississippi Valley Museum of Textiles in Almonte to hold a show there from August to October.
2006:  Sylvia Naylor joins the group.  This year it was decided to retain the title of Inspiration and Decoration for our April show but to dispense with a theme though we continued the tradition of a members' Challenge  proposed by Linda Hetherington and based on Sue Dove's book, Paint with Stitches.  This year we voted to fund an award of $250 for the 2007 Threadworks Juried Show  for the category "Best Innovative Use of Colour".  Mary Ev Wyatt steps down as president and Robin Fields assumes the chair.
2007:  Our tenth anniversary show was held in the Wilson Room and Foyer of the Central Library.  Each artist had her own space of approximately 2 panels  with description of her work, an artist's statement and biography.  To coincide with the Threadworks Show's theme of "Passions", members were invited to use the same theme in at least one work.  The founding members of the group were invited to display retrospective pieces from earlier shows.  The "Challenge" was "Celebrating Our Diversity".  We were each given the same rather mysterious photo and the task was to use imagination and creativity in our individual interpretations.  Jo Fitsell joined the group.
2008:  Our show in the foyer in April is called "Mythic Images" and the  Challenge  is  for each participant to bring a small piece, no bigger than 5X5 inches, which will be passed around from month to month in a round robin.  Dorothy Caldwell opens the show.  In November we hung a big show in the Belleville Library Gallery, a fine exhibition space.  The theme is "Voyages" and the Challenge to build a piece on a quote from Proust,  as suggested by Tina Barnes , "The real voyage of discovery consists not in seeking new landscapes but in having new eyes. "  We welcome two new members, Denise Sokolsky and Sandra Garner.  Jo Fitzell  led a workshop on "Taking Your Work to the Next Level."  That year she returned to permanent residence in Colorado.  Sylvia Naylor arranges for a showing of  our work in Guelph at Greenwood Quilts.  We instituted stitch days to allow members to share ideas and stitch together, as the business meetings are always busy.  Robin stepped down as president and Andrea Graham took on the position.
2009:  In March we hung our show in the Wilson Room and foyer.  Each artist was given two panels for display in the big room and for the Challenge, each participant constructed a piece using the colours and shapes of her small fragment of a bigger image by a famous artist.  When the small pieces are mounted all together the image was recognisable as a still life by Matisse and is 31/2 by 6 feet in its finished form.  Kit Vincent opened  the show.  Janice Van Dijk and Linda Hetherington retired, both having contributed richly to the health of the organization.  Frankie Le Monde Meunier  became secretary.
2010:  Our theme for the March show in the Library was "Trees" to coincide with the Threadworks show that year.  The Challenge was to interpret a photograph which suggests to many a nautical theme.  Karen Goetzinger opened the show.  Five members are accepted into the juried Threadworks show.  In September we began a monthly rotation of pieces in the small display area of Wool Thyme a shop on Gardiner's Road.  Lee Fisher Goodchild returned.  Two new members join, Susan Farber and Margaret Morris.  Susan enlists her daughter to set up a new web site. Andrea steps down as president and leaves the group. Phillida Hargreaves becomes president.
2011: This show in the Wilson Room and Foyer was opened by Jan Allen whose opening remarks are available through the minutes. She gave thoughtful commentary and critique of the show.  No theme for the show, but the Challenge was to illustrate a quote from Shakespeare of our own choosing.  From June to September we rotated a show in the Brockville Museum and called it  "Hanging by a Thread".    To encourage discussion of art as well as business, we instituted  the draw of a  topic on an artistic theme  as the conclusion of our monthly meeting.  Bethany Garner retires from a long and conscientious service , much appreciated, as treasurer.  Sandra Garner takes on  the  job of treasurer.
2012: We welcomed Janine Gates to the group. Our show Inspiration & Exploration was held in April at the Kingston Public Library and our theme was Water. For the Challenge we each created works in identical small black frames that were sold in a silent auction. Bethany led the members in a workshop on Pole Dyeing at the Odessa Hall. A second show, Art of the Stitch, was held from October 21 to December 1st at the Window Art Gallery of the School of Art in Kingston. Our on-going displays at Wool Tyme came to an end – many thanks to Robin & Susan for leading this venture.
2013: A spring show was held in the foyer of the Kingston Public Library titled Sundown. Another show was undertaken in July & August at the John Parrott Gallery in Belleville titled Stitch Happens. Hana Sramek resigned from the group due to family obligations and we were sorry to see her go. We decided that Associate Members could be added to the group so that contact wasn't lost during a sabbatical from the group. Most members took a guided tour of the Agnes Etherington Art Center. A field trip to the Mississippi Valley Textile Museum in Almonte was also enjoyed by a number of our members. In the fall we welcomed Kit Vincent and Janet Elliott to the group. Denise Sokolsky and Lee Fisher-Goodchild signed on as our first Associate Members.
2014: Hana Sramek became an Associate Member. The group participated in a Play Date in Odessa where Bethany demonstrated mono printing with a Gelli Plate and brayer – Kit Vincent also demo'd Ink Tense Pencils. Our fall show was at the Kingston Public Library titled Inspiration & Exploration. We participated in the Writer's Fest in September 'Stitch and Stanza' with 12 artists and writers. Each artist presented a piece of art to which the writer created a corresponding poem, and vice versa.
2015: We said farewell to Janine and Kit. Best of luck to both of them. We welcomed new members Peta Bailey, Carolyn Barnett and Linda Coulter later in the year. Our spring show 'Hanging by a Thread' was held at The Windows Art Gallery, Kingston. Then 'Timeless Textiles' was held at The Mississippi Valley Textile Museum in Almonte from July 28 to September 5th – very exciting for all the members.
2016: Much excitement and planning for our show in the newly opened Community Gallery in the Tett Centre for Creativity and Learning. We secured a Ballytobin Grant and presented our spring show 'A Stitch in Time'. Our website was refreshed/updated.
2017: We returned to the Community Gallery in the Tett Centre for our spring show 'Art Threads'. With all members participating it was a full show and very well received. As members had a rotation for being present at the gallery while it was open, the workload was shared and the public appreciated having a personal guide on hand when visiting. In the fall we had an afternoon workshop with Karen Goetzinger. She led us through writing an artist statement and pricing our work. Peta resigned from the group.
2018: Our spring show was held in the Community Gallery in the Tett Centre. The decision was made to call our spring show 'Art Threads 2018' and we will keep the name 'Art Threads' for all further shows, changing the date accordingly. Challenge was 'Black and White and One Other Colour'. In the fall many members went on a bus trip to see the World of Threads exhibit in Oakville. We were joined by Lee Fisher-Goodchild, Lori Everett and Seymone Armstrong. Sylvia and Tina left the group and Mary Ev took a leave of absence.
2019: Frankie LeMonde Meunier and Tina became Associate Members. Bethany brought the SAQA Trunk Show to the group in May. Our spring show Art Threads 2019 was held again in the Community Gallery at the Tett Centre. This year we added a Walk & Talk segment to the show, as well as demonstrations by a number of the members. These were very well received by the public. Challenge was a piece inspired by a famous quote, presented on a 12×12 canvas. Many of our meetings were held at St.John's Church as they provided more space to allow for afternoon programs led by individual members.
2020: Sandy left the group early in the year. Plans were fully in place for Art Threads 2020 at The Tett for spring when the pandemic Covid-19 closed many public areas and we postponed the show until 2021. We had planned a challenge – creating fabric takeout boxes. All artwork including the takeout boxes will have to wait until 2021. We continued meeting at first in an outdoor venue, then via zoom calls, sharing information and artwork in that way.