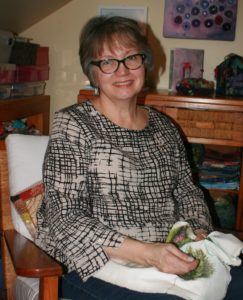 I have always been drawn to beautiful shapes, saturated colours, and delicate details. These principles are in my thoughts as I dye or paint fabric for my art, or take photographs for inspiration.
My process is not formally planned, but is more improvised…often starting with the creation of fabric, and then allowing the colours or shapes evolve into a theme. I have many favourite methods when working with cloth and thread, and it it hard for me to say what I love best. But there is always the joy of creating complex cloth with colours, layers and stitching. When representing a scene, it may be in an abstract way, interpreting the feeling of the place, or its unusual qualities. With more representational works, I try to feature meaningful details, to encourage the viewer to look closely.
Creating textile art is a joyful process. I am inspired by the texture of boulders smoothed by ocean waves, the shape of windblown wildflowers, and the thoughts behind a secretive smile. I hope that my work invites you to see what it means to you.